Bones in togas puzzle Vatican archaeologists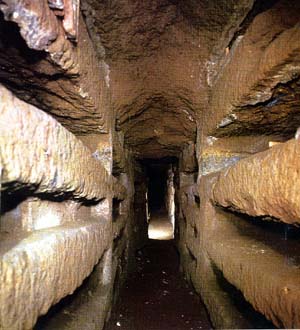 By Aussiegirl
Looks like the remains of an ancient toga party gone bad. I wonder if they'll find the video and put it on the internet. Seriously, this is an interesting find. Could be the resting place for victims of some epidemic or natural disaster. It must be fun to be an archeologist and try to figure these mysteries out. Like being a Hercule Poirot only with a spade and brush.
Telegraph | News | Bones in togas puzzle Vatican archaeologists

Archaeologists exploring one of Rome's oldest catacombs are baffled by neat piles of more than 1,000 skeletons dressed in elegant togas.

The macabre find emerged as teams of historians slowly picked their way through the complex network of underground burial chambers, which stretch for miles under the city.

They say the tomb, which has been dated to the first century AD, is the first known example of a "mass burial".

The archaeologists are unable to explain why so many apparently upper-class Romans - who would normally have been cremated - were buried in the same spot, apparently at the same time.

Forensic tests are being carried out to try to establish whether the Romans suffered violent deaths, or were victims of an undocumented epidemic or natural disaster.

There are dozens of catacombs beneath the ancient city, some dating back 2,000 years and many used as burial places by early Christians. Others were used as secret places of worship to avoid persecution.

The Vatican's Pontifical Commission for Sacred Archaeology is overseeing the dig. Its chief inspector of catacombs, Raffaella Giuliani, said: "This is the earliest example of such a mass burial. Usually two or three bodies at the most were put into holes dug out of the rock in the catacombs, but in these case we have several rooms filled with skeletons.

"They are placed one on top of the other and not in a disorderly fashion. They have been carefully buried, with dignity, but the puzzle is why so many at a time?"

The skeletons were dressed in fine robes, many containing gold thread, and wrapped in sheets covered with lime, as was common in early Christian burials.

The discovery was made at the Catacomb of SS Peter and Marcellinus on the ancient Via Labicana in south-east Rome.

Miss Giuliani said there was no obvious sign that violence was the cause. "We are trying to establish whether the skeletons were buried there following some form of epidemic or natural disaster.

It is possible they could have been persecuted and killed by the Romans and then buried there by fellow Christians - we just don't know."